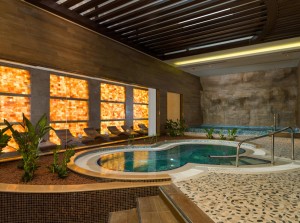 Hotels across the world usually have two basic functions: accommodation and catering. Nevertheless, most of them also excel at additional services around those "core competencies" such as events, congresses and trade fairs. A real challenge in regards to safety, hygiene and service are more exclusive areas such as the bathing, spa or fitness areas.
When entering a hotel spa guests step into a whole new world inside the hotel, which is, ideally, an enchanting and fascinating experience. But especially in the beginning this "new world" might also make them feel a little bit uneasy. This is the reason why good spas integrate certain features of the hotel into their interior design (at least in the entrance area) and interpret them according to their own architectural focus. This way they create familiarity with an outlook towards something new. Good day spas use the same strategy: They, too, integrate elements from their surroundings.
Also in other aspects one can speak of a spa as being worlds apart from the hotel itself. Not only does it constitute a secluded area of peace and relaxation for guests. Sometimes, it is also run by external operators and is, thus, not integrated into the overall hotel management processes. Here is a list of internal challenges that may arise from these differences between a hotel and its spa:
The spa staff operate in a constant field of tension between outstanding friendliness on the one hand and time pressure and a heavy workload on the other, caused for example by tardy guests or unexpected events. However, a professional spa manager will let it show neither towards a guest nor an employee or business partner that they are under time pressure. Requirements regarding human knowledge, empathy and serenity are extremely high in this regard and go beyond those demanded in the hotel itself.
Massages, beauty or other wellness treatments can – depending on their intensity – have positive as well as negative impacts on the health of guests. Here, the hotel disposes only of little experience from similar disciplines. The same is true for oils and essences that are used, for example in view of possible allergic reactions.
One of the hotel's core competence is the spa's challenge: food supply. This point is primarily about the hygiene during preparation and presentation: freshly squeezed juices, teas, dried fruit etc. In some spas the reception staff and therapists are also responsible for this task – often due to a lack of personnel, which can lead to quality hazards.
The fact that "the rules in a spa differ from those in a hotel" is the reason why many hotel managers have their spas run by external operators. But do those operators pursue the same objectives as the owner of the spa, i.e. the hotel? This question may be answered from an economic point of view: A hotel can take a strategic advantage of its spa in order to make the whole hotel more attractive. And the additional costs caused by the spa can usually be successfully compensated. First, by an augmentation of the room rates. Second, the hotel is likely to reach an additional guest target group thanks to its spa. All in all, a hotel can thusly achieve a better economic result than without a spa. As a consequence, the spa itself does not necessarily need to yield a profit. In many cases, a cost-covering operation or a small loss are absolutely sufficient as long as the total account is in order. An external spa operator, on the contrary, depends on earning money with the spa. This pressure might have negative impacts on the quality of the spa. The requirements in regards to quality and sustainability of an external operator can differ considerably from those of a hotel manager.
A spa can also constitute a different world when it comes to quality management. I have experienced that some spas that are run by external operators were not integrated into the hotel's quality management. This may lastingly affect the image of the hotel on the long run. In general, the spa and wellness area is an integral part of the hotel offers. Consequently, guests will hold the hotel responsible for quality deficiencies in the spa and not necessarily the spa operator. The apparent relief by outsourcing the management of the hotel spa can easily fall back on the hotel manager just like a boomerang. Hotel rating websites provide numerous examples where a hotel received bad reviews due to defects in the spa, although it did well in other areas.
Especially in this context quality certificates provide substantial relief. They offer both the hotel manager and the spa operator more security and transparency in regards to a good and effective quality management.
Photo credit: © Güral Premier Hotels and Resorts, Turkey
Download this blog post in German | Blog-Post auf deutsch herunterladen. (PDF)