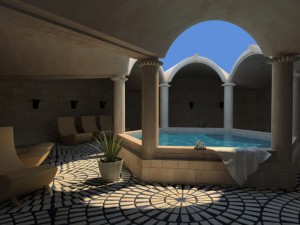 Why is the atmosphere in a spa of utmost importance? It happens that guests are sometimes staying away from some newly built spas with an expensive architecture and fine design. But how can that happen?
Possible reasons might be the concept, the premises or the choice of products. But often guests are staying away because of the missing fine-tuning which makes a "raw" spa an atmospheric spa. This includes a charming interior, the light, the odours, the sounds, the touch of objects and the charisma of the employees. In short, the atmosphere affects the whole perception of the spa.
Guests perceive this atmosphere with all their senses. That is why the concept of a spa has to appeal to all senses. If this is successfully implemented, guests will be sustainably impressed and will return. Every room of the spa and their function contribute to this concept. The reception, for example, is a "warm welcome", the changing rooms "make visitors to guests", the treatment room is an "individual experience" and the relaxing room "the grand finale".
The first thing to create an atmosphere in is the spa design and concept as well as the structure. There are several rules for  spa design, concept and structure that will be covered in detail in the following blog posts:
The spa must be perceived as "another world" within the hotel.
The architecture only creates the framework.
People working in the spa give it its personality.
Design: A spa is an accessible art work.
Every inch of a spa is psychology.
There is a light, sound, odour, taste and material concept to address all five senses
The spa is never located in the basement. If it is, guests must have the impression it is not.
Every spa has a centre and represents one unity.
During treatments the guest must have the impression that this room is only for them.
A spa visit should be a distraction from everyday life. For example, bath tubs (an item everybody has at home) must be something very special.
Aisles must not be perceived as aisles.
In a spa, guests always stride up to something illuminated resp. illuminating.
The relaxing room is the most beautiful of all rooms.
The beauty area must have an atmosphere of familiarity and hygiene.
Everywhere in the spa you can have a look at something uplifting.
Spa pools are primarily not for swimming.
Photo credit: istockphoto.com
Download this blog post in German. | Blog-Post auf deutsch herunterladen. (PDF)