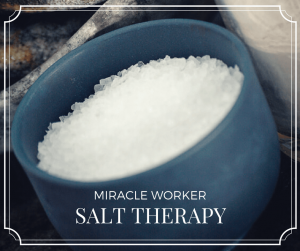 Salty air is healing, beautifying, detoxifying and energizing. Several research results confirm the beneficial impact of using salt inside and outside of our body. Not only water – salt is essential to life, too.
Written records of frequent use of salt for healing and anti-inflammatory purposes go back until ancient Egypt. By now, it is proven that we need salt or its connected elements for even the simplest processes in our body. Minerals are necessary for proper cell function and metabolism. Certainly, it matters in what form and quality we take the suggested salt amount. Instead of table salt, which dehydrates, we should use high-purity, structured, mineral-rich ones, like the Himalaya, Epson, Hunza, Parajd or Dead-Sea salts, as they nurture and moisturize the body.
Salt and the Skin
More and more dermatologists and cosmetic professionals suggest the salt therapy for clients suffering from psoriasis, eczema or for alternative healing ways for acne-prone skin instead of using drastic chemicals or antibiotic treatments. The skin cleanser and demulcent salt has already offered effective solutions for many to recover from problematic skin conditions.
The beautifying salt can be applied in different ways depending on the skin concern.
Mud: Salty mud masks support skin regeneration and thanks to their perfect hydration impact support the cells' water supply. Mud is successfully applied for connective tissue concerns, reduces the signs of cellulite and the formation of wrinkles. As salt stimulates metabolism and blood circulation it greatly supports skin firming.
Scrub: To achieve even better result during treatments apply salt scrubs and peelings before the treatment, 1-2 times a week.
Bath: A detoxifying and energizing salt bath is beneficial in all seasons.
As opposed to the misconception, salty water does not dry your skin as traditional foamy hot baths do, so people with dry skin can freely add it to their weekly routine. To put it very simply, salt penetrates the upper layer of the skin through a so-called reverse-osmosis and binds water there.
Undoubtedly, salt therapy cannot substitute professional face and body treatments, but it efficiently supports it and speeds up our skin's regeneration process.
Body Firming and Toning with Thalassotherapy
The Dead Sea is worth a visit at least once in a lifetime. A 2- to 3-days active recreation at the shore will make you feel reborn.
The buoyancy of the water is so tremendous that no additional energy is needed to float on the water. The salt consistency of the sea is so high – approx. 33 % – that our skin is almost immediately revitalized and will be as smooth as if it had been ironed. J The salt does not dry out the skin, on the contrary, when we do not take a quick shower after floating a salty oily coating develops on the surface of the skin, which does not even dry in the sun. Of course, this high salt concentration can irritate the skin on the long-term, so I do suggest a quick wash-off. The Dead Sea water has an extremely strong anti-fungal and anti-viral impact, enhancing the regeneration process of the skin and wounds. The miracle worker salt does not end with the skin as it has countless other health benefits. For more information on Thalassotherapy please see our previous article "What is Thalassotherapy?".

Salt Therapy and Health
The therapeutic usage of salt, regardless of whether it is Speleotherapy (therapy received in a naturally formed salt cave) or Halotherapy (in a man-made cave, usually above ground, using natural salt bricks) can be broadly applied to treat medical conditions and to enhance well-being. The salt level in our body affects our cell activity, energy and even the blood sugar level. For more information on this matter please see the infographic below.

Tip – Salt Therapy at Home

Nowadays, as we use tons of electronic devices, our home is full of positively charged particles, which can lead to chronic tiredness, enervation, pale skin and on the long-term to other different health concerns. This is why I recommend you to get 1 or 2 salt lamps in order for our body but also our close environment to be filled and charged with negative ions.
Just think about how great it is to take a deep breath and smell the fresh air after it has rained – when the air is filled with negative ions. This uplifting feeling can be taken to your home with those handy salt devices. Try it!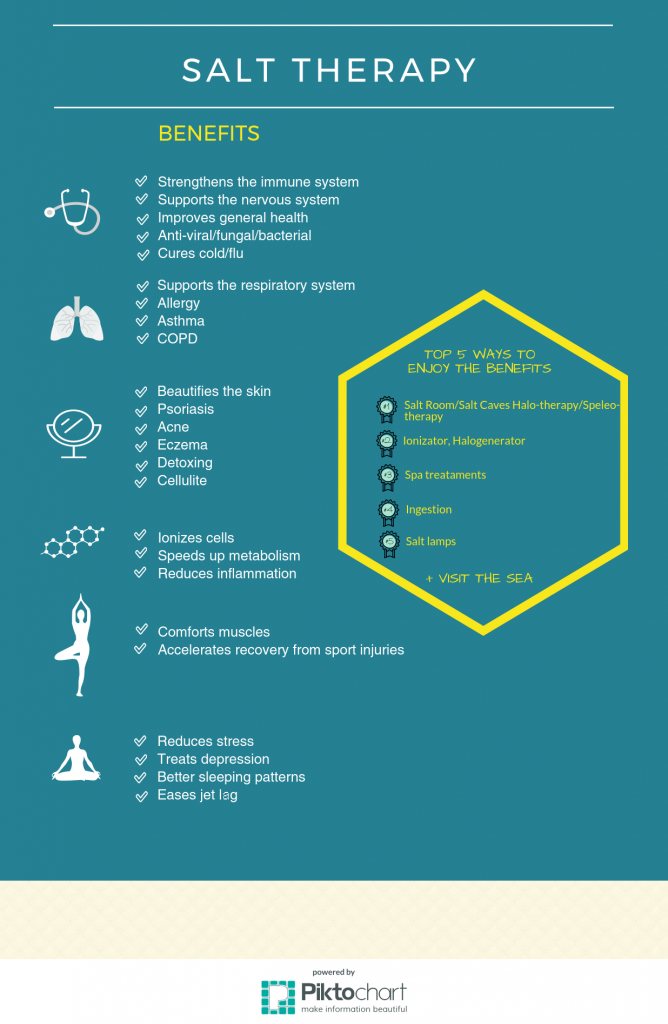 Photo credit: © istockphoto.com