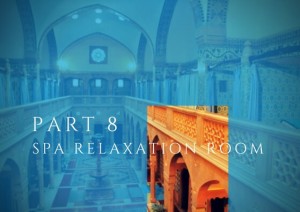 This time we will deal with yet another elementary room in every spa: the relaxation room. A cozy, quiet refuge where guests can go after a treatment to get the most out of the beneficial effects of their spa treatment.
After carrying out more than 100 audits across the world I have seen very different kinds of hotel spas. We have collected my insights regarding the atmosphere in spas on our blog in a series entitled "Every inch in a Spa is Psychology".
In a good spa, the guest will receive more than just a simple treatment. They are rather setting off on a journey of impressions. It is advisable to keep this journey in mind when planning the spa or when altering it at a later stage.
The spa's architecture, furniture, atmosphere and the behaviour of the staff signal the guests important statements such as
"Here you are at a special place."
"Here you'll not only get a massage but a unique experience."
"Here you'll set off on a journey."
Part 8: The Spa Relaxation Room – make a lasting impression
The most important task of a spa relaxation room is to support guests in processing the physical stimuli of a treatment (such as a massage, a bath, etc.) and, thus, finding their balance back. The body may well be able to find its balance again without post-treatment rest but usually only with unwelcome side effects like temporary sweating or unrest, which undermine the desired effects of the treatment. This is why a stay in the spa relaxation room, so to speak, constitutes "half the therapy".
Regarding the set-up of the spa relaxation room it is crucial to keep in mind that nowhere else in the spa guests have that much time to perceive their surroundings and architecture and to let these impressions sink in. Therefore you should put extra importance on the furnishing and decoration of the relaxation room. It is, after all, the last – and lasting – impression guests take away from a spa. Consequently, from the spa's point of view, the relaxation room is the most beautiful of all rooms, not the treatment room. Here, the spa can send important "signals" to its guests. Thanks to the relaxation room the spa can present itself in all its beauty and convince guests to come back again.
A clock in the spa relaxation room? The relaxation room should permit a sense of time. It is the only room in the spa where guests can see a clock.
Drinks and snacks in the spa relaxation room? Generally speaking, a buffet holds the risk of untidiness and lack of hygiene. On the other hand, it stands for generosity. If there is to be a buffet, it needs to be continuously and thoroughly maintained in order to guarantee cleanliness, tidiness and hygiene. This requires personnel. Alternatively, individual plates for each guest might be more practical: a choice of dried fruit, nuts or cookies and a drink like a freshly pressed juice or tea. Here, too, the special value lies in the type and presentation of the products.
Magazines in the spa relaxation room? Magazines tend to crumple easily and quickly get dog-ears and stains. This makes them look shabby and spread an undesired image of a doctor's waiting room. Better banish them or exchange on a regular basis.
Photo credit: © Trencianske Teplice, Slovakia
Download this Blog Post in German (PDF). | Diesen Blog-Post auf Deutsch herunterladen (PDF).