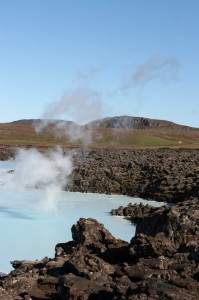 There are many different ways thermal water benefits our health. Generally speaking, warm water is good for us. The warmth in combination with zero gravity act deeply relaxing and make us feel safe. While bathing in thermal water, we can put our thoughts in order. The water serves as a support and provides warmth in the form of swimming pools, baths, showers or – as is common in Ayurvedic tradition – in the form of a drink for warmth from the inside.
What does warmth do to us? Bernd Hartmann highlights in the "Deutsches Bäderbuch" (German Baths Book) the following effects on the human body:
–        Relaxing (antistress) effects
–        Inhibition of the building of stress hormones
–        Contribution to muscle relaxation and joint relief
–        Improvement of skin sensory properties and body sensation
Since ancient times, bathing in warm waters was highly appreciated. Vladimir Krizek describes in his book "Kulturgeschichte des Heilbades" (Cultural history of the healing bath) bathrooms in ancient Mesopotamia, which even more than 4,500 years ago were equipped with clay tubs. In medieval times, the bath was of high importance in the form of public bathhouses and baths in medical therapy. Countries with a bath tradition are Egypt, India, Greece ("poor in water, rich in baths"), Turkey and the entire Maghreb region with its tradition of hammams, Italy with the Roman bath tradition and Asia, especially Japan. Author Alev Lytle Croutier quotes a Japanese folk song: "A bath in a hot spring can cure you from anything but from love".
According to the definition by the European Spas Association, natural thermal water must dispose of a natural temperature of more than 20 °C at the source. From a geological point of view, this constitutes in fact an anomaly as groundwater in Central Europe usually has a temperature of about 7-12 °C. But we do not necessarily perceive 20°C water temperature as warm. What exactly we do perceive as "warm" is rather subjective. In a medical context, we can be more specific: we distinguish hypothermal waters (<35 °C) for exercise pools, isothermal water (35-37 °C) for relaxation and hyperthermal waters (>37 °C) for baths with the therapeutic purpose of increasing the body temperature.
Already the Romans knew of the strong healing powers of thermal water. They established numerous health resorts and thermal baths across Europe. The project "The Roman Thermal Spas of Europe" unites eight such thermal spas and health resorts of Roman origin in order to revive their common legacy.
Download this blog post in German. (PDF) | Blog-Post auf deutsch herunterladen. (PDF)
Photo: Blue Lagoon, Iceland,  approx. 48 °C  | © istockphoto.com