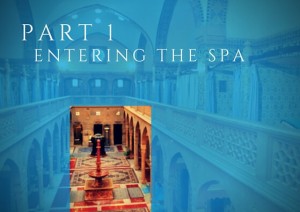 After carrying out more than 100 audits across the world I have seen very different kinds of hotel spas. We have collected my insights regarding the atmosphere in spas on our blog in a series entitled "Every inch in a Spa is Psychology".
In a good spa, the guest will receive more than just a simple treatment. They are rather setting off on a spa journey, which is a journey of impressions. It is advisable to keep this journey in mind when planning the spa or when altering it at a later stage.
The spa's architecture, furniture, atmosphere and the behaviour of the staff signal the guests important statements such as
1. "Here you are at a special place."
2. "Here you'll not only get a massage but a unique experience."
3. "Here you'll set off on a journey.
But without further ado, lean back and relax – the spa journey is about to begin!
Part I
Entering the Spa

As the saying goes, first impressions count. That's the reason why the design of the entrance area contributes to the success of a spa in a particular way. Guests should receive the message "You are entering a whole new world."
For the inexperienced spa-goer entering a spa area can pose an invisible barrier. Fear of the unknown meets curiosity. In order to address the "external" public in particular asking yourself the following questions may prove helpful:
How is the entrance area designed? How dominant is the optical influence of advertising boards (for example for beauty products) and product displays? Could they create the impression of a shop rather than a spa?
Is there a lot of bustle going on in the entrance area that causes noise and disturbances?
Is there a sitting area and thus the possibility for guests to spend waiting periods without disruptions?
EuropeSpa expert tip: The entrance area constitutes the gateway from the hotel to the spa area. The transition from the world of the hotel to the world of the spa could be further accentuated by a path or bridge.
Download this Blog post in German (PDF). | Diesen Blog-Post auf Deutsch herunterladen (PDF).
Photo credit: © Trencianske Teplice, Slovakia