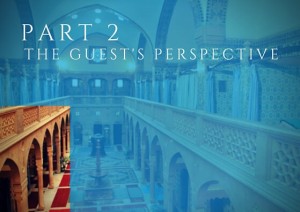 Last time, we set off on our journey starting with the guest entering the Spa. Today, we make one step further and look at the guests' perspective during their stay in the spa and what you can do in terms of spa interior design in order to make it as perfect as possible.
After carrying out more than 100 audits across the world I have seen very different kinds of hotel spas. We have collected my insights regarding the atmosphere in spas on our blog in a series entitled "Every inch in a Spa is Psychology".
In a good spa, the guest will receive more than just a simple treatment. They are rather setting off on a journey of impressions. It is advisable to keep this journey in mind when planning the spa or when altering it at a later stage.
The spa's architecture, furniture, atmosphere and the behaviour of the staff signal the guests important statements such as
1. "Here you are at a special place."
2. "Here you'll not only get a massage but a unique experience."
3. "Here you'll set off on a journey."
Part II
Keeping in mind the guest's perspective
After the construction of a spa its fine-tuning pays special attention to the guests' perspective during their journey through the spa: Fragrances, sounds, lighting, decoration… There simply cannot be enough perfection regarding these seemingly straightforward but absolutely crucial elements.
It goes without saying that the guests' journey through the spa is supposed to be a positive one. You want them to feel calm, relaxed, secure and at ease. In terms of interior design this means that they should always be led towards something illuminated, something bright. This includes all areas in the spa. Also, at the end of every hallway there should be a picture or a statue matching the spa's topic or, at least, an illuminated plant. This way, guests always walk toward something nice and the potential feeling of reaching a "dead-end" is avoided. In cases when you do not have any other choice than to lead a guest towards a darker area (e.g. a massage room), their glance should always be directed to an illuminated object. This object should have a certain degree of expression that is able to compensate for the atmospheric degradation due to the lack of illumination when entering the room.
When entering the relaxation room the guests ideally look out of a window onto a nice landscape or garden. Where this is not possible, there should at least be an illuminated picture or other decorative object.
EuropeSpa expert tip: Dark corners in a spa are absolutely taboo. For this purpose, there is a special lighting concept.
Download this Blog Post in German (PDF). | Diesen Blog-Post auf Deutsch herunterladen (PDF).
Photo credit: © Trencianske Teplice, Slovakia