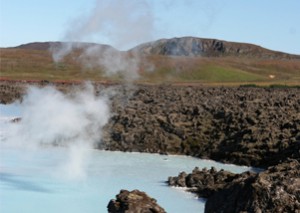 When we take a bath in thermal water and enjoy the warmth and weightlessness we feel comfort and happiness. At first glance it does not matter whether it is a bath with artificially heated tap water or a bath with naturally heated thermal water from deep layers of the earth. For decades bathing in warm water has been highly appreciated. The ancient Roman and Greeks already used it for health and hygiene purposes.
Everyone of us knows the feeling of "wellness at home": A bath in the bath tub. But what exactly is the benefit of natural thermal water if we could simply heat up the water coming from the tap? To make it clear: A bath in natural thermal water is a completely different world! There are considerable differencesto artificially heated tap water. I will explain some characteristics and ingredients of natural thermal water, which cannot (or not in significant quantities) be found in tap water. But there are also contraindications to a bath in thermal water, which should be checked depending on the health condition.
A natural pH-value
Depending on the resource natural thermal waters can have a low or a high pH-value. The pH-value of tap water is always 7. Thermal waters with a high pH-value (more than 8,5) can have the same effects as alkaline baths used for detoxification and purification of the body. Thermal waters can also have a low pH-value of 3 or less. These waters have an extensive disinfectant effect on the skin.
Hydrogen sulphide or carbon dioxide
Natural thermal waters often have an increased content of hydrogen sulphide (H2S). This substance penetrates the skin quickly and can have a positive influence on inflammations (Pratzel & Schnitzler, 1992). Thermal waters rich in sulphur have relaxing, analgesic and anti-inflammatory effects.
Thermal waters can have increased contents of carbon dioxide (CO2), too. Carbon dioxide is also quickly absorbed by the skin and stimulates blood circulation of the skin (Gutenbrunner & Hildebrand, 1998). In therapeutic treatments carbon dioxide baths can also help to lower blood pressure (Melchart et al, 2008).
Tap water does not contain hydrogen sulphide and only contains small amounts of carbon dioxide. Thus, taking a bath in tap water does not provide the beneficial effects described above.
Silicic acid
Contrary to tap water natural thermal waters always contain increased amounts of precious silicic acid. This substance can have a mineralising effect on the skin and can support the stability of the skin.
Aerosols can have beneficial health effects too
Aerosols are inhaled as little drops when the thermal water evaporates. The sulphur has a disinfectant effect on the respiratory tract. The naturally increased salt level moisturizes the respiratory tract and thereby strengthens the defence system of the body. A bath in tap water cannot provide these health effects.
High salt levels in thermal water
Contrary to certain thermal waters called brine, tap water cannot contain high salt levels. In thermal waters the increased salt level produces buoyancy effects and thus contributes to relaxation.
Last but not least: A bath in nature is a unique experience
Besides all these positive characteristics, which can be associated to the special quality of natural thermal water, a bath in nature – for example in a thermal spring – is a unique and fascinating experience. You can feel the warmth of the earth in a completely natural environment – without disinfection and flocculation agents, chemicals for pH-value stabilisation and for algae control.
Literature:
Pratzel & Schnitzer (1992): Handbuch der Medizinischen Bäder, Haug-Verlag
Gutenbrunner & Hildebrand (1998): Handbuch der Balneologie und medizinischen Klimatologie, Springer Verlag
Melchart et. Al (2008): Naturheilverfahren (Schattauer-Verlag)
Download this blog post in German (PDF) | Diesen Blogeintrag auf Deutsch herunterladen
Photo: Blue Lagoon, Iceland – © istockphoto.com