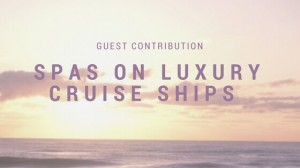 Guest Contribution on spas on cruise ships by EuropeSpa Consultant Jovana Redžić who has worked as a spa therapist on cruise ships for several years and now back ashore runs her own day spa in Belgrade.
When we want to go on a vacation, we usually look for full relaxation, sun, sea and sand. What's a better way than having it all together by taking a cruise, enjoying the spa onboard and at the same time visit several countries in only a couple of days.
Spas on cruise ships can be a real piece of heaven. Whether you are on a small cruise ship or on one of the biggest ones, as crew member or guest. The spa is always in the center. Once you enter that "door of heaven" you often can't resist to book a treatment. Examples for the equipment and treatments on a cruise ship are the beauty salon, facial and body treatments, acupuncturist, medical spa doctor for facial rejuvenating treatments, personal trainers, healthy bar, swimming pools, saunas, steams rooms, etc.
Type of costumers and how they are treated
Everyone is welcome to visit a spa and fitness center on a cruise ship. No matter of your age, religion, nationality or race. As the onboard crew is from all over the world, you will probably find someone from your country who speaks your language. Depending on the size of the ship and the spa area there are between 4 and 40 members of staff employed in the spa.
Timetables and strict schedule
Timetables for staff are very strict and made in advance of the cruise. There is a certain amount of weekly working hours allowed, regulated by the MLC law. That is usually 10 to 12 working hours a day, taking a day and a half free in one week. Every minute is counted, entered and monitored in an electronic system so that the booking schedule is precise and that there is a member of staff available for every treatment booked.
The gym is opened from early in the mornings, usually 6 am until late at night, usually 11 pm – 12 pm. On some cruise ships the fitness center is opened 24/7. Throughout the day you can enjoy fitness classes that can be free of charge or at additional cost. You can even take yoga classes with a fitness trainer on the beach depending on the cruise line. The fitness trainer is available all day for any help you need. As safety is an important issue, don't expect that you will be able to work out in the gym wearing your flip flops.
The beauty and spa area usually opens at 8 am and closes at 10 pm. The spa staff is available all day with lunch and dinner breaks, following their working schedule made by the spa manager.
Supply and storage of materials
The storage of material must be well organized. Thinking about safety, all chemicals are well chosen and only the ones approved by the cruise line can be used. They are all stored carefully as some chemicals can't be stored together. This is to prevent spills and chemical reactions. For flammable materials there are separate lockers. Everything is labeled and signed with a safety data sheet. When a bottle goes empty this has to be recorded in the system and to be sent to the incinerator for special disposal. Nothing goes overboard in order not to pollute the ocean. Every waste is separated and safely removed from the ship in one of the ports of call.
As everything is recorded in the stock system, the system knows what is needed for the next stock supply. Cleaning chemicals are provided onboard and treatment products come from the suppliers outside. Every three months new stock comes in and inventory is done. You can imagine that there have to be a lot of storage rooms available, like chemical lockers, lockers for flammables, product stockrooms, paper material lockers, etc.
How spa staff is chosen for this job
If you decide to work in a spa center on cruise ships, you have to have a smile on your face, a degree in beauty, cosmetics or spa business and a minimum of two years experience in the spa industry. You can then apply for a job and go to pass an interview. Once you have done all that, you will complete your training at an academy where you will be prepared for your next journey. You will be specialized for the treatments you will carry out. Furthermore you will be given safety instructions and details about your ship. On cruise ships guests should be confident that the spa therapists are experienced in their profession and in a case of emergency know what to do.
In my opinion it is a great way to travel the world, meet a lot of people, save money and most of all gain an amazing professional experience.