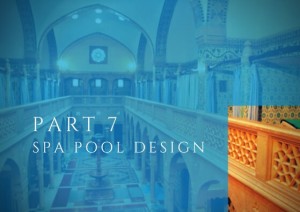 After dealing with the right design and set-up of the treatment rooms in a spa we continue today with another very popular area: the spa swimming pool. What makes it different to a normal swimming pool?
After carrying out more than 100 audits across the world I have seen very different kinds of hotel spas. We have collected my insights regarding the atmosphere in spas on our blog in a series entitled "Every inch in a Spa is Psychology".
In a good spa, the guest will receive more than just a simple treatment. They are rather setting off on a journey of impressions. It is advisable to keep this journey in mind when planning the spa or when altering it at a later stage.
The spa's architecture, furniture, atmosphere and the behaviour of the staff signal the guests important statements such as
"Here you are at a special place.
"Here you'll not only get a massage but a unique experience."
"Here you'll set off on a journey."
Part 7: Spa Pool Design – Sometimes More is More

When seeing a pool in a spa area guests might unconsciously think: "If I wanted to go swimming I would visit a swimming pool." A swimming pool really is nothing special. A pool in a spa then is nothing special either. Right?
So – if not for swimming – what exactly is the purpose of a spa swimming pool? The answer is quite obvious: to contribute to the guests' relaxation – thanks to warm water, and sometimes even underwater music and a lighting show. Looking at and moving in water simply is good for body and soul.
In order to support this purpose there are a couple of aspects to bear in mind regarding the spa pool design. The ambiance around the pool may well be a little bit extravagant: why not, for instance, a rocky landscape or a kind of jungle? Also the exact opposite works: the simplicity of architectural perfection or a special natural experience. What is extremely important here is that the pool itself should differ notably from what guests picture as a classic hotel pool. Just like much else in a spa the pool, too, rather is art than a means to an end. Design and decoration may therefore well be a bit over the top. The challenge, however, is for it not to appear cheap or kitschy.
As you might have already correctly guessed, this extravagance in spa pool design mentioned above refers to the whole room. Accordingly, the spa pool may be located under a dome, be surrounded by a starry sky or allow a breath-taking view.
Photo credit: © Trencianske Teplice, Slovakia
Download this Blog Post in German (PDF). | Diesen Blog-Post auf Deutsch herunterladen (PDF).