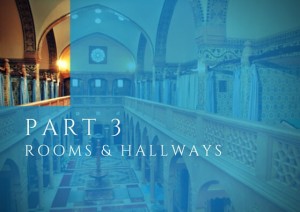 After dealing with the importance of the right design of the spa's entrance area and the perspective of the guests during their stay we are today focusing on how the rooms and hallways should be laid out to your guests' benefit.
After carrying out more than 100 audits across the world I have seen very different kinds of hotel spas. We have collected my insights regarding the atmosphere in spas on our blog in a series entitled "Every inch in a Spa is Psychology".
In a good spa, the guest will receive more than just a simple treatment. They are rather setting off on a journey of impressions. It is advisable to keep this journey in mind when planning the spa or when altering it at a later stage.
The spa's architecture, furniture, atmosphere and the behaviour of the staff signal the guests important statements such as
"Here you are at a special place."
"Here you'll not only get a massage but a unique experience."
"Here you'll set off on a journey."
Part III
Rooms and hallways are hardly perceived as such
The more a room in a spa actually "resembles a room" the more this signals to the guests "I am ordinary. Just like the rooms at your house." As a consequence, the spa loses part of its particularity, of its uniqueness. In other words, it loses its "spa image", which is on of the most important elements that entice potential guests to come here in the first place.
This is why, in a well-managed spa, rooms and hallways are hardly ever perceived as such. Together they should form one harmonious entity that naturally and intuitionally leads and guides the guest and makes them feel comfortable from the moment they step over the threshold.
In addition to that, rooms and hallways fulfil two very important functions: They convey the topic of the spa to the guests, which is mostly achieved by a consequent concept of decoration and architectural elements. Also, they convey the desired spa image. In other words, the "interior is the packaging". This is why, as trivial as it may sound, rooms and hallways should not be neglected when setting up your spa.
Download this Blog Post in German (PDF). | Diesen Blog-Post auf Deutsch herunterladen (PDF).
Photo credit: © Trencianske Teplice, Slovakia