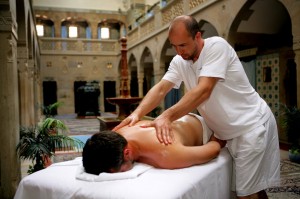 In one of our previous articles we already discussed ancient civilizations and their healing techniques. The practice of using massages as a curative method goes back to ancient history and is still highly evolving and performing in recent days. There are dozens of different massage techniques varied by cultures and stroking movements but they all share some beneficial effects.
Science has already declared that massage therapy is safe and favourable in many cases and health related issues, given that a professional practitioner carries them out. A massage – that is the manipulation of soft body tissues to improve health and overall well-being – without limitation, can be a solution for rehabilitation, relaxation, to ease pain and for stress relief.
We massage-lovers all know that bodywork can do miracles to us.
Imagine you are lying on a massage bed in a restful atmosphere, surrounded by tranquil music and indulging scents. You feel the sheet on your bare skin. The room is pleasantly dark, lit by small lights similar to stars on the sky. This relaxing, ambient sanctuary sets your mind at peace and your thoughts are fading away. You start feeling better before your therapist even enters the room. Does that sound familiar?
Did you know that touch is the first sense to develop in humans? Our skin behaves as a kind of "wall" between the outer and inner world and makes up 15% of the total body weight.
There are approx. 5 million touch receptors (mechano-receptors, thermo-receptors, pain-receptors and proprioceptors) in our skin. Their ability to identify touch sensations gives the brain countless information about the environment surrounding us, including temperature, pain, or pressure.
But how does a massage work exactly? Studies prove that massage therapy has biomechanical, physiological, neurological and psychological effects on us. It heals the body by its non-direct effect on the mitochondria development, which is responsible for cell growth and energy production. In order to better understand how a massage works we collected some facts below and grouped them by their benefits on the body. Remember that a single treatment only is a short-term solution, so one has to go regularly for bodywork to enjoy all its benefits.
PHYSICAL BENEFITS
Improves the circulatory system:
Encourages circulation
Removes metabolic waste
Decreases swollen limbs
Dilates blood vessels
Increases oxygen level of the cells
Decreases blood pressure
Reduces heart and pulse rate
Increases the number of red blood cells
Reduces inflammation

Improves the metabolic system:
Stimulates metabolic rate
Improves the renal system:
Increases kidney function
Stimulates the elimination of water
Improves the muscular system:
Eases pain
Relaxes muscle spasm, relieves tension
Exercises muscles
Promotes tissue regeneration
Stretches connective tissues
Speeds up recovery from injuries
Decreases tissue adhesion
Improves the skin:
Stimulates circulation
Improves the skin's tone, elasticity and colour
Improves the nutrition of skin cells
Improves the lymph system:
Stimulates the lymphatic drainage
Speeds up the elimination of waste and toxins
Improves the skeletal system:
Distresses bones
Increases flexibility of joints
Improves posture
MENTAL BENEFITS
Improves the nervous system:
Relieves stress
Improves sleeping patterns
Increases parasympathetic activity
Decreases Cortisol and Adrenaline
Relieves migraine
Reduces mental stress
Clears the mind
Improves productivity
EMOTIONAL BENEFITS
Improves the psychological benefits:
Releases endorphins
Reduces anxiety
Harmonizes the breathing rhythm
Provides a feeling of "well-being"
Enhances mental focus and concentration
Increases self-awareness
Harmonizes the body-mind-soul connection
Generally speaking, receiving a massage is pure joy and pleasure!
Please also note that a massage, in some cases, can be harmful! If you are interested in getting more details, check back later on to the EuropeSpa blog to read about contra-indications, too.
Photo credit: © Trencianske Teplice, Slovakia